— Matchbox —
Matchbox is your virtual base camp that gives you visibility into the entire admissions process. From here you can dynamically configure the look and feel of Matchbox for
every kind of role in your process – readers, interviewers, staff, alumni, faculty, or any others that you define. Let Matchbox be the conductor in your admissions orchestra.
Analytics / Dashboard
See how your admissions process is unfolding in real-time. Matchbox shows you reviewer statistics including completion rates and review velocity. We also help you generate a baseline view of your scoring system and the quality of the pool on-the-fly. Want to know who the tough reviewers are and why? Or the profile of the applicants you are attracting and from where? Matchbox can help you answer these kinds of questions.
Plug it into anything
Matchbox understands that by being the best-in-breed, we don't do everything (you still need to do your own laundry) and that you may want to connect Matchbox with your existing systems. Thus, we equipped Matchbox with the latest in lightweight and powerful web services so you can connect it to nearly any system*. We are constantly building off-the-shelf connectors to popular CRM, Document Imaging, and Student Information Systems.
Dynamically Configure iPad
Get started in under an hour with one of our starter kits. Easily reconfigure score cards, application sections, and field displays with ease.
*Ask us how we can connect to systems like Peoplesoft, Banner, Matrix, Jenzabar, OnBase, Nolij, Salesforce, Intelliworks, custom-built systems, and many others.
---
The spectacular features await below.
Sync
Locating friendly and fast internet can sometimes feel like you are looking for Atlantis. That's why we built Matchbox to work offline so you can continue your work uninterrupted. With the tap of a button your files are backed up to Matchbox and refreshed with the latest or missing application data. Missing a recommendation or a transcript? Matchbox has you covered by automatically updating the application PDF in the background so you can continue your review without losing any progress.
Start your 30-day free trial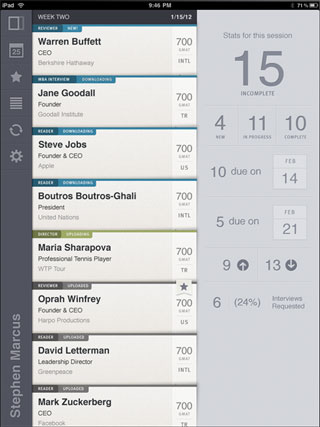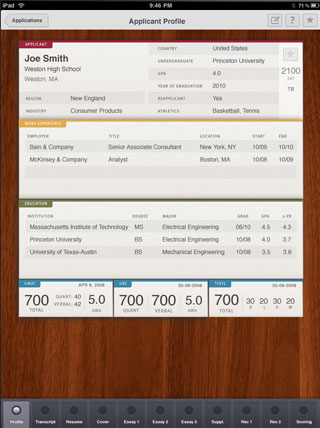 We built a customizable profile screen to help summarize key data on your applicants, including their social media (Facebook, Twitter, LinkedIn, Blogs, etc.). Quickly find basic applicant details including education, previous employers, and test blocks such as GMAT, GRE, SAT, TOEFL, IELTS, and many others.
Signup - you'll thank us later
Profile
Application List
How am I doing? There's no more need to count stacks of applications to find out. The Application List is the quick shot of your assigned applicants. Know at a glance the status of each application, and organize and sort at the touch of a button.
Signup - every Frat member does it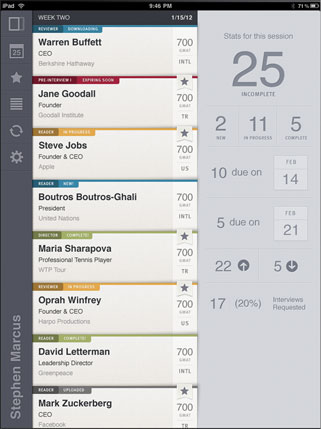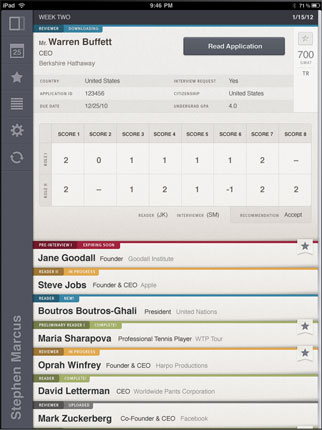 There's no more sorting through piles of paper when the Admissions Director asks you to defend your decision. All the data you need is available on Expanded Adcom. Use applicant scores from all reviewers, as well as high level applicant data, to give your elevator pitch on a candidate to the admissions committee.
Save a tree and signup now
Expanded Adcom
Annotating
Give your writing hand a break with Annotating. Highlight key text — literally — for automatic score card creation. Spot color-coded selection factors for fast reference throughout the application. Best of all, collaborate and build on prior reviews to make the most informed decision. Your hands will thank you.
Start pushing students' buttons - literally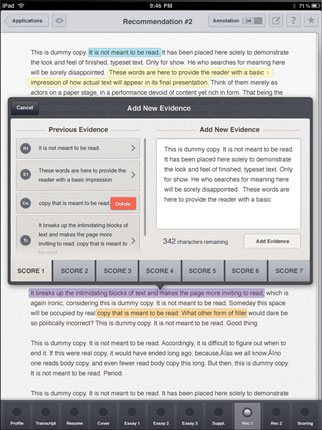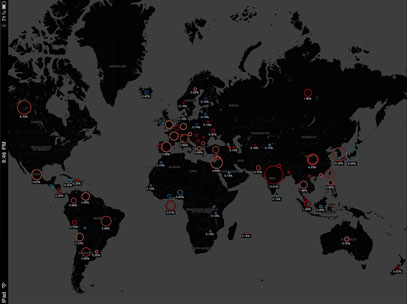 We know you love data. Want to know the assigned-to-completed ratio for all of your readers — in real time? How much time are your readers spending on each application... or recommendation...or even essay? Data displays have never looked cooler. With Matchbox, you'll be able to answer questions you've never been able to ask before.
Become a cool committee member
Analytics
Unleash the full power of Matchbox with Director-level decision making. Use analytics to sculpt the pool. Browse through an application for quick referencing of your most important admissions factors. Compare multiple reviewer summaries and scores on one simple screen. With so much information at your fingertips, admit your next class with remarkable clarity — and certainty.
Signup - we'll stop with these catchphrases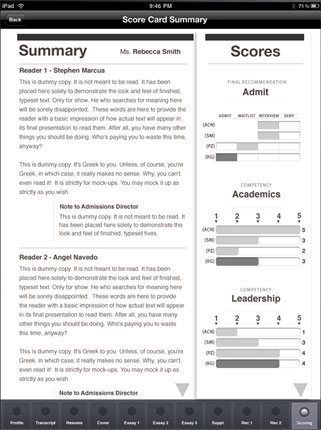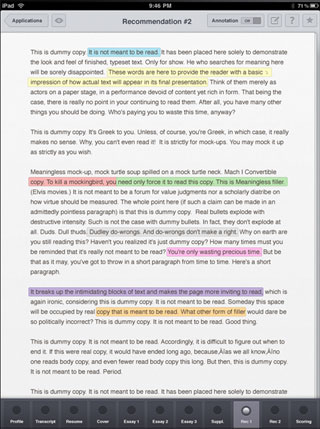 Finally, a way to read all of your applications while sitting in your favorite chair. No more dual monitors, no more piles of paper. Sit back, relax, and Matchbox. Fast, Kindle-style navigation. Tap a bookmark to move quickly between the resume, essays, and recommendations. With zoom, there's no more straining your eyes to see that calculus grade. And the 10+ hours of battery life will mean you can stay cozy all day long.
30-day free trial just for scrolling this long
Reading
Score Card
Ever re-read an application so you can find that one key piece of information? Now finding the source of evidence is as simple as tapping on it. All annotations have location badges, so a quick scan will point you to essay two for that witty comment. And so much evidence pulled in from the application – all on one screen – will help you make the most informed score. The score card is customized to your process – you can even have multiple score cards for multiple kinds of reviewers.
You've come so far - it's time