Best Practices
Benefit from our extensive admissions experience with best practices to streamline your admissions process. Our products and services dramatically reduce the time to review an inbound application. Our sophisticated evidence-based scoring methods help you to quickly and efficiently find the best candidates for your program. Our analytical expertise will help you make better decisions faster.
We understand the admissions market and provide the best tools to take your admissions process to the next level.
Scoring
The electronic score card on our iPad app includes a number of features to transform your evaluation process:
Score on a number of dimensions customized to your school
Add evidence directly from application to the score card
Pose questions to probe for interviewers or other reviewers to consider
View the scores and comments of previous reviewers
Include summary comments and observations
Recommend a candidate for an interview with the touch of a button
Complete your evaluation, automatically syncing your data to your central system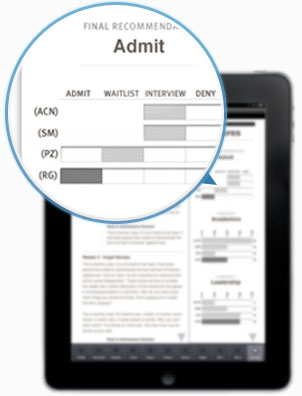 Annotation
Our innovative annotation feature is an application process breakthrough, creating a radical acceleration in the time it takes to complete an evaluation.
Highlight text with the application from essays, resumes, and recommendations
Connect that text to a specific scoring criterion
The text is automatically added to the scoring card
The text appears color-coded according to the scoring criteria you selected so you can quickly browse an application and see where the applicant is strongest and what qualities the application's missing.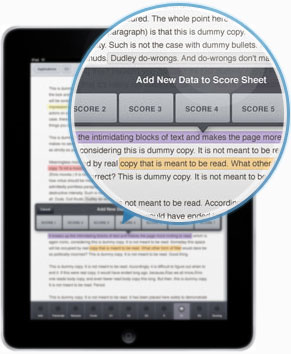 Roles
Admissions processes are as diverse as the application pool. Matchbox provides a number of flexible and customizable roles to which you can assign the evaluators unique to your process. Some examples of roles include:
Screener — Quickly read & evaluate specific sections of the application before it is distributed to a full reader.
Reader — Read and evaluate the entire application.
Interviewer — Read and evaluate the application; view previous readers' scores and comments; add new observations and scores based on interview.
Career Review — Read and evaluate career choices and career-related essays.
Academic Reviewer — Evaluate transcripts and test scores.
Reviewer — View all annotations, scores, and observations from previous readers and interviewers.
Director — Assign and distribute applications, view advanced admissions analytics.
Your role here — Combining best practices from our experience with your process, we will create customized roles to fit your unique needs.
Assignments
Matchbox streamlines the assigning and distributing of applications to reviewers. Directors assign a series of applications to a set of readers, interviewers or reviewers. Once assigned, applications are instantly available to reviewers.
The Director role provides levels of control over the process. Directors set expiration dates on applications, forcing reviewers to complete their evaluation by a predefined date. Additional functionality provides Directors with metrics to assess, for example, how much time individual readers spend on each application, allowing opportunities to streamline pacing with additional training. See Analytics below.
Institutional Templates
For new schools or schools looking to improve their scoring, we provide institutional templates based on your educational market.
Analytics
Matchbox loves data. We provide schools with advanced analytics on any number of admissions process metrics. Interactive graphs and charts will help you at every stage of the admissions process, including: demographic snapshots of your applicant pool; comparison graphs of ratings across readers and interviewers; assessing reading time across readers; determining yield factors; managing waiting list candidates to maintain your fit and diversity goals.
Customization
We understand all admissions markets and customize our services and solutions to your workflow. Whether you are reading applications for an undergraduate, graduate, or professional program, we have the institutional templates and customization to revolutionize your process.